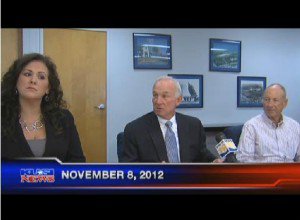 Unions Back Again with Dreams of Controlling Jobs on San Diego Convention Center Expansion
---
A third campaign commences for a tax to fund a second expansion of the San Diego Convention Center. And again, union officials take center stage in the effort - for the usual price of a Project Labor Agreement.
San Diego news media is rightfully asking the head of the San Diego-Imperial Counties Building and Construction Trades Council if campaign leaders for proposed tax measure have promised a Project Labor Agreement guaranteeing unions a monopoly on construction jobs. Tom Lemmon (head of the Building Trades) is being coy and claims a deal hasn't been cut yet. See these news stories:
Construction Groups Mull Opposing Hotel-Tax Hike - Voice of San Diego - January 31, 2018
Petition Drive Begins for Initiative to Raise San Diego's Hotel Tax - San Diego Union-Tribune - February 1, 2018
In 2012, unions filed a lawsuit against the financing proposal and objected to the proposed convention center expansion on environmental grounds. They flipped from strong opposition to strong support when a secret deal was made with then-Mayor Jerry Sanders after the 2012 elections.
The Coalition for Fair Employment in Construction sued the City of San Diego and ultimately obtained documents communicated via private email accounts revealing a secret deal involving former union head Lorena Gonzalez (now a prominent member of the California State Assembly), Mayor Jerry Sanders and his Chief of Staff Julie Dubick, and developer Steve Cushman. The deal involved a Project Labor Agreement, an appointment of a union-backed candidate to a commission, and the mayor's commitment to support various union political objectives. In exchange, the unions would drop their environmental objections and lawsuit.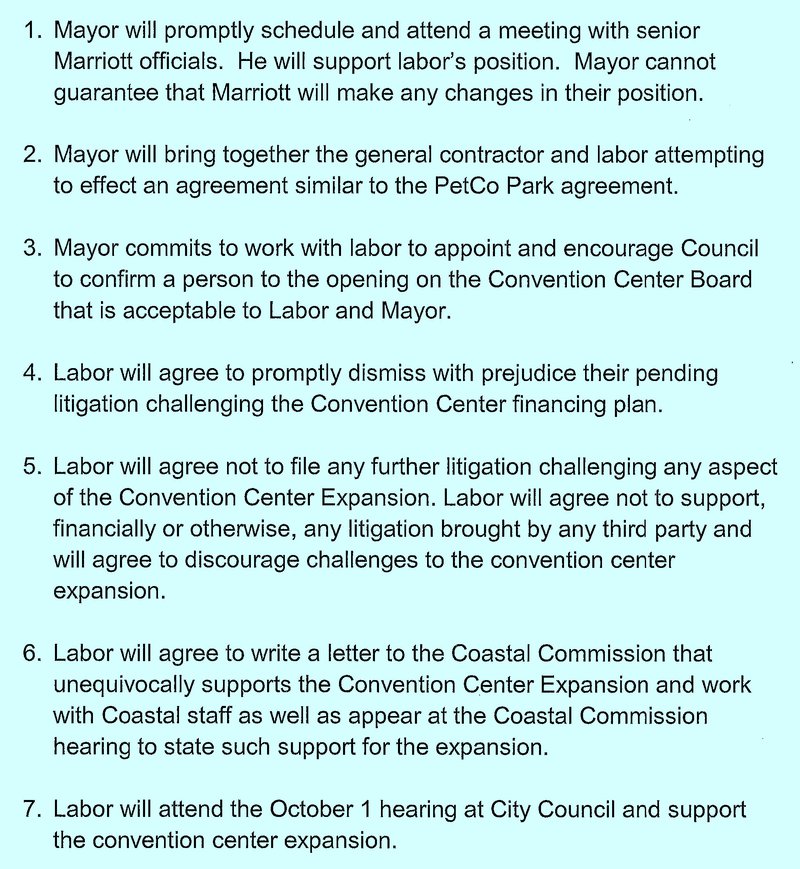 Read more about the union extortion of this project and the resulting secret deal:
Finally Got It! Secret Union Deal for San Diego Convention Center - California Policy Center - July 8, 2013
City Accused of Subverting Public Records Law in Lawsuit over Convention Center Expansion - San Diego Reader - July 10, 2013
Rare Exposure of a Union Backroom Deal: Former San Diego Mayor Jerry Sanders Surrenders to Former Top Union Official Lorena Gonzalez - FlashReport - July 10, 2013
Records Suggest City-Union Dealings - San Diego Union-Tribune - July 13, 2013
Sanders, Gonzalez, in a Back Room, Together - San Diego Reader - March 26, 2015
In 2016, backers of the San Diego Convention Center expansion tried again. This time, the unions were given a Project Labor Agreement right away, at the start of the campaign. Strangely, the unions eventually faded as a visible major force in the campaign. It failed.
Now, in 2018, unions are supporting the tax without any acknowledgement of a Project Labor Agreement. Perhaps sensing that they were a controversy that led to the last two failures, they are trying the more traditional approach of supporting a tax while anticipating a reward if it passes.
You can be sure that a Project Labor Agreement will be announced with a big press conference in the week following the election, if the tax measure gets on the ballot and voters approve it. You can also be sure that the Coalition for Fair Employment in Construction will let voters know what is happening.