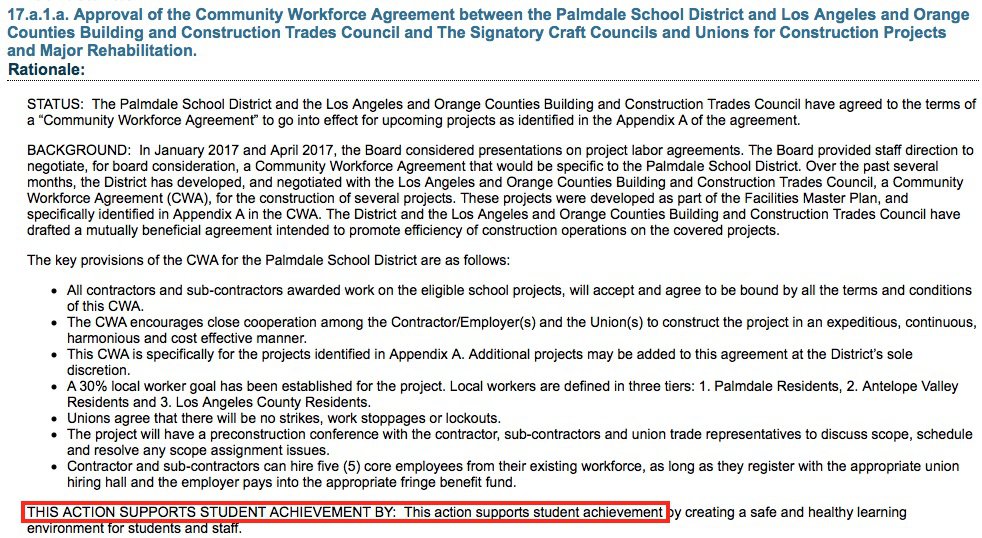 Palmdale School District Fulfills Their Promise...to Construction Unions
---
The Palmdale Elementary School District promotes a slogan: "
The Palmdale Promise
" ("La Promesa de Palmdale"). Tonight (September 5, 2017), the school board will fulfull its promise to construction unions to give them a monopoly on district construction contracts with a Project Labor Agreement.
This district claims the Project Labor Agreement "supports student achievement by creating a safe and healthy learning environment for students and staff." (See staff report for Agenda Item #17.a.1.a - Approval of the Community Workforce Agreement between the Palmdale School District and Los Angeles and Orange Counties Building and Construction Trades Council and The Signatory Craft Councils and Unions for Construction Projects and Major Rehabilitation.)
Yes, we should expect student grades to soar in this district as soon as construction companies are making mandatory payments into the various union-affiliated trust funds indicated in the appliable Master Labor Agreements for each trade in Los Angeles County. See the Project Labor Agreement here: PSD CWA Contract.
Below is an email sent to the Palmdale School District board. Considering that the board recently appointed a professional organizer of the Laborers Union to a board vacancy, it's unlikely anyone will vote NO. That would break The Palmdale Promise.
---
September 5, 2017
Re: You are voting for discrimination and waste tonight. Trustee Velador also has a conflict of interest.
Trustees,
Sadly you appear to have placed the needs of big labor special interests over those of workers and taxpayers by putting a Project Labor Agreement (PLA) on your agenda tonight. As we have shown you over the past number of months (see below and attached) a PLA, something that you never told voters would be considered when you were trying to pass your bond, is a tool used to make it harder for merit shop firms to bid your work. Period. The "negotiated" PLA that you are voting on tonight is a boiler plate "agreement" that looks just like every other PLA because the unions negotiate nothing. If only your staff had tried to represent all of the members of your community and not just those in construction unions.
The key elements of the PLA that unions require to be in all PLAs are the following:
• All workers must pay union dues
• All workers must pay into union benefit packages, packages they will never vest in thus having that money stolen from them
• Employers are only allowed to use 5 of their employees. All the rest must come from the union. Really? Why would you discriminate against an employer's workforce? Are you now construction experts who know best how a person should run their construction business?
• Non-union apprentices are not allowed to work on your taxpayer funded projects. So an entire class of young men and women who are trying to make a better life for themselves are being told by you that they are not good enough.
I would hope that at some point your canine affection for union boss demands would have its limits, but this appears to not be the case.
That is what you are voting for tonight if you approve this PLA.
Part of what we do besides educating entities about PLAs is holding them accountable if they do. Should you approve this PLA we will actively work to help defeat any future bond you place before the voters as you will have demonstrated that your fiduciary responsibility to them takes a back seat to your allegiance to big labor special interests in Los Angeles.
It is also clear that with Mr. Velador's conflict of interest (his union will be directly benefiting from the PLA) he should recuse himself from tonight's vote.
Eric Christen

Executive Director
Coalition for Fair Employment in Construction