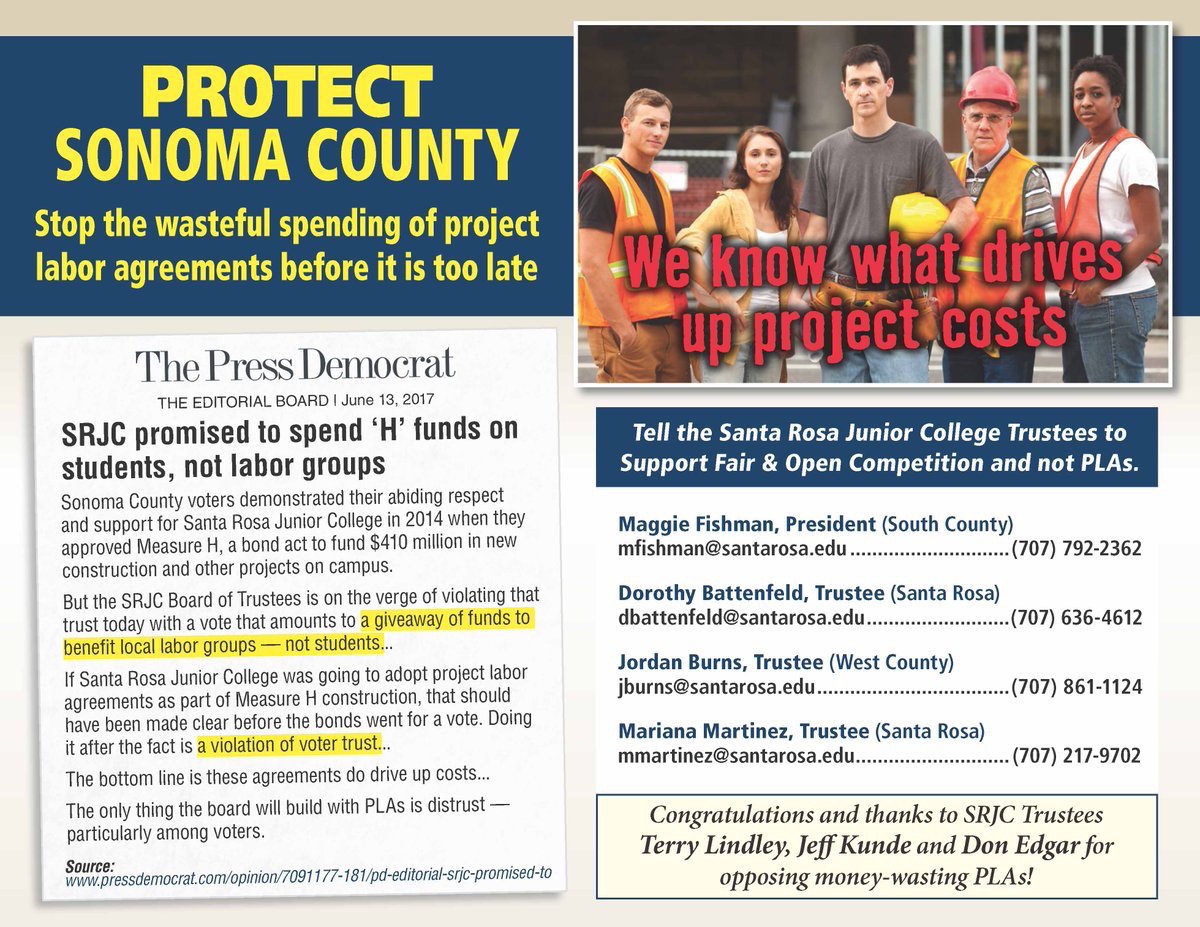 Vote Is Today on Project Labor Agreement at Santa Rosa Junior College (in Sonoma County)
---
During the Labor Day weekend, local newspapers in Sonoma County reported claims from labor union leaders about their success in advancing their political agenda at local governments in Sonoma County. One of the victories referenced by union leaders was the Project Labor Agreement they expected the Santa Rosa Junior College Board of Trustees to give them for construction contracts:
In June, the Santa Rosa Junior College Board of Trustees agreed to negotiate a deal that would set union rules and benefits for a planned large campus construction project, despite intense opposition from non-union construction interests.
The day has come for the college district to ratify the deal with unions. At the meeting scheduled today (September 12, 2017), the Santa Rosa Junior College board will vote on a Project Labor Agreement. It appears that the 4-3 majority that voted to negotiate the Project Labor Agreement in June is still intact, although the board members in that narrow majority are expressing a lot more public anger because their votes are now exposed to the public.

Here is a summary from the staff report for the September 12, 2017 meeting agenda item: 
On June 13, 2017, the Governing Board directed the Superintendent-President to negotiate a Project Stabilization Agreement (PSA), sometimes known as a Project Labor Agreement (PLA), for a single project meeting meeting three criteria. The criteria included measures to encourage participation by local labor, the development of pre-apprentice and apprenticeship programs, and cost control measures. After two months of negotiation, the Board is presented with a PSA that includes measures addressing the requested criteria. At the end of the project, the Board will be presented with a written evaluation measuring project outcomes against the listed criteria. The Board is now asked to approve the measure, and the Burbank Theater modernization project will become the trial project.
The Coalition for Fair Employment in Construction has been part of a coalition of Sonoma County and Northern California business groups and taxpayer organizations alerting Sonoma County residents that this Project Labor Agreement will increase costs of their community college construction. The campaign includes web advertising, a website, a Facebook page, and mailers.
Website: Fair and Open Competition at Santa Rosa Junior College: The Best Construction at the Best Price for Santa Rosa Junior College Students and Taxpayers
Facebook Page: Keep Santa Rosa Junior College PLA-Free
Mailers: